Using Nautical Charts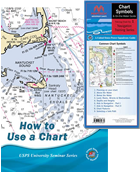 Learn the basics of reading and using a nautical chart for safe boating whether you're cruising, going fishing, or just out for the day. Charts include must-have information, including bottom contours, hazards, and aids to navigation, to help you travel safely. Each student receives a Student Guide for the seminar. An optional waterproof flip-fold Chart Symbols and On-the-Water Guide to take along on the boat with you is also available.
What's included?
What charts show navigators above the water
Chart features
Chart scales
What charts show navigators below the water
Aids to navigation
Latitude and longitude
Planning your course
What's in your way
This seminar is also available online.